Possible Etymology
The name Palamountain seems to have originated in Cornwall, England from Polmounter or something similar. According to the Historical Research Centre in England, it is classed as an 'habitation name,' that is, a name based on a place where the family lived. Their interpretation suggests that it comes from the terms
pol
(tide stream or pool) and
munt
(mount or hill). Thus it means: dweller at the pool by the mount. Another source claims that the name Polmounter or Pellymounter is derived from
pol-mun-tyr,
meaning pool by the mineral land. On the other hand there seems to be French branch of the family also. It has been suggested that our ancestors were Huguenots (French Protestants) some of which escaped persecution by migrating across the Channel to Cornwall. The Celtic people of Cornwall had close ties with the people of Bretagne, France - their languages were particularly close. Trade, and most likely family ties, were strong between these two regions.
Locations
According to a map of Cornwall produced in 1630 there is a homestead listed with the name 'Pellamontavne.' A similar map of uncertain age has the site listed as 'Pallamontain' and Jo(hn) Pollamontain as the resident/owner. While the cartography is less than perfect by modern standards it seems that the site is extremely close to modern day Quintrell Downs, which lies about 2km SE of Newquay. According to the old maps, the homestead is surrounded by properties belonging to the
Arundell family of Trerice
. It is said that our family were stewards to the Arundels. About 4km further south (2km east of St. Newlyn East), on the east side of the Gannel River, there exists today 'Pollamounter Farm.' For a while this was set up as a 'Bed and Breakfast.' This site is listed on an 1888 ordnance map as
Pollamounter (Remains of a Barton).
(see old-maps.co.uk: grid-ref 184872,56410) The current house on this site is of much more recent origin.
On a recent trip to Cornwall (April 2008) I checked another old map of Cornwall which seemed to indicate that the original homestead would probaby have been located between Quintrell Downs and the hamlet of Gwills downstream from Trerice Manor and near Trevithick Manor. (Trevithick is shown on the opposite side of the Gannel in the old map.)

View Pallamontain in a larger map

see also:


Co-ordinates of Pollamounter farm/barton: 184872,56410
Heraldic Devices
The Historical Research Centre also details the Polmounter arms. We used the description that follows to create the images at top-right. Unfortunately, we do not know exactly, to whom these arms were granted.
Blazon of Arms: Or a saltire gules; a bordure sable charged with twelve bezants.

Crest: A bezant as in the arms.

Translation of arms:
Or = gold; saltire = cross; gules = red; sable = black; bezant = small round gold thing - like a byzantine gold coin.

There is also a 'seahorse' device and we have heard of a 'sealion' device - coloured 'argent on azure' - associated with a branch of the family from Brittany, France.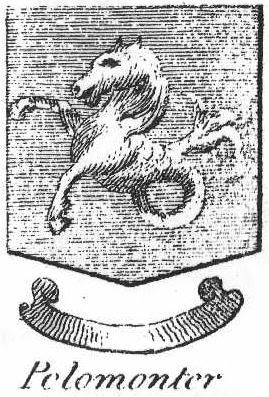 from: 'An historical Survey of Cornwall' vol. 2, by C.S. Gilbert. 1820